Internal Tab Washers, Flat Washers, Plain Flat Washers, Square Washers, ASME B18.13 Washer, ASME B18.21.1 Lock Washers, Square Beveled Washers, ASME B18.22.1 Plain Washers, Washers Manufacturer in Mumbai, India.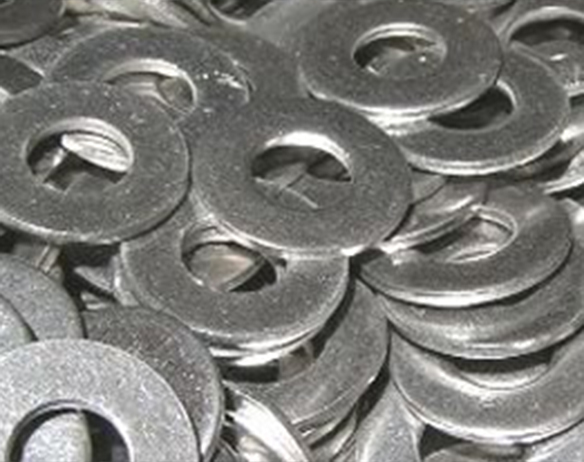 Stainless Steel Washers
Carbon Steel Washers
Duplex Steel Washers
Alloy Steel Washers
Monel Hex Washers, Ready Stock of Washers, Nickel Alloy External Tooth Lock Washers Trader, Stainless Steel Internal Tooth Lock Washers, Inconel Curved Wave Washers, Largest Stockholder of Washers in India, ASME B18.23.1 Beveled Washers Manufacturers in Mumbai, India.
SteelAge Alloys LLP is a well-known manufacturer of industrial goods; we produce Washers and a variety of other goods for industrial usage at factory prices. In order to meet each client's needs in the shortest amount of time, we have a diligent crew in our production facility. SteelAge Alloys LLP never skimps on the quality of any of the products it offers, serving up standard-grade goods with a standard specification for snug fit. We have been working for a long time to guarantee the customer that every product will provide a thorough, dependable performance.
The washer, a thin plate with a hole in the center, distributes the weight of the fasteners' threads. In essence, washers are well-known for being used with bolts or nuts because they offer superior strength and aid in distributing load during high-pressure applications. Nuts are more pressure-resistant with the aid of washers, and rubber washers also serve to dampen vibration. All washer categories are available to satisfy our customers' different application needs. For essential situations, stainless steel washers have exceptional strength and corrosion resistance. It can be applied to a variety of fields, including engineering, food processing, water supply systems, chemical processing, aerospace, pulp and paper manufacturing, nuclear power plants, and many more.
Hastelloy Washers, High Quality Washers Dealer, Cupro Nickel Fender Washers, Alloy 20 Ogee Washers, Duplex Steel High Pressure Sealing Washers, SMO 254 Finishing Washers Stockist, Industrial Washers Supplier in Mumbai, India.
In our production facility, SteelAge Alloys LLP manufactures washers in accordance with a predetermined process. We use cutting-edge technology and prefer premium-grade raw materials. A skilled, conscientious team works diligently in our production facility to meet client requirements quickly. We also have highly skilled, experienced teams who are trained professionals and are capable of creating a broad range of washers that are determined by standards of quality. We make sure that every washer meets the minimum requirements for a completely leak-free flawless fitting.
For special client requests, we also provide washers in tailor-made dimensions at a factory price. With the aid of qualified teams, SteelAge Alloys LLP effectively utilizes technology and exclusively assigns specialist teams to all standard tests, destructive tests, and non-destructive tests. Only washers with sturdy structures and faultless mechanical qualities during testing are delivered by us.
| | | |
| --- | --- | --- |
| Standard | : | DIN, ASTM, BS and all International Standards |
| Size | : | M3 - M56 | 3/6" to 2" | Custom Sizes |
| Length | : | 3 mm to 200 mm |
| Packing | : | IN BULK: canton, pallet, Small Boxs / carton or customer request |
| Form of Washers | : | Hex, Threading, Square, Round as per Gauge Etc. |
Washers Material & Grades :
Stainless Steel Washers : AISI 302, 304, 304L,316, 316L, 310, 317, 317L, 321, 347, 410, 420,904L etc.
Duplex & Super Duplex Steel Washers : ASTM / ASME A815 UNS No. S31803, UNS No. S 32205, UNS No. S 31254, UNS No. S 31550, UNS No. S 32750, and UNS No. S 32760
Alloy Steel Washers : ASTM / ASME A/SA 193 / 194 B 6, B 7/ B 7M, B 16, 2, 2HM, 2H, GR 6, B 7, B 7M
Carbon Steel Washers : ASTM A307, A193
Nickel Alloy Washers : ASTM / ASME SB 160 / 164 / 425 / 166 / 446 / 574 / 472 UNS 2200 (NICKEL 200) / UNS 2201 (NICKEL 201), UNS 4400 (MONEL 400), UNS 8825 (INCONEL 825), UNS 6600 (INCONEL 600) / UNS 6601 (INCONEL 601), UNS 6625 (INCONEL 625), UNS 10276 (HASTELLOY C 276), UNS 8020 (ALLOY 20 / 20 CB 3)
Other Types Of Washers
| | |
| --- | --- |
| Stainless Steel Plain Washers | SS Internal Tooth Lock |
| Monel External Tooth Lock | Inconel Finishing Washers |
| Carbon Steel Square Washers | Incoloy Alloy Hillside Washers |
| Alloy Steel Dome Plain Washers | Monel 400 Countersunk Washers |
| Duplex Steel Dock Washers | Nickel 201 Ogee Washers |
| Nickel 200 Bevel Washers | Steel Lock Washers |
| Super Duplex Steel Drive Screws | SS Flat Washers - SAE |
| Copper Alloy Split Lock Washers | Brass Fender Washers |
| Titanium Alloy Wave Washers | Nickel Alloy Round-Mall Washers |
| Hastelloy Belleville Washers | Alloy Steel Bonded Sealing Washers |
Our Main Export Market / Our Main Supply Market
Romania, China, Australia, Poland, Italy, Malaysia, Iran, Belarus, France, United Kingdom, Iran, Qatar, Oman, South Africa, Mongolia, Ukraine, New Zealand, Pakistan, Mexico, Belgium, Saudi Arabia, Canada, Chile, Poland, United States, Bhutan, Greece, Germany, Angola, Croatia, Sri Lanka, Serbia, Kuwait, Ghana, Morocco, Kazakhstan, Estonia, Argentina, Peru, Denmark, Norway, Japan, Afghanistan, Trinidad & Tobago,Tunisia, Portugal, Ireland, Lithuania, Zimbabwe, Czech Republic, Bahrain, Namibia, Thailand, United Arab Emirates, India, Vietnam, Gambia, Mexico, Macau, South Korea, Philippines, Indonesia, Tibet, Azerbaijan, Nigeria, Colombia, Slovakia, Sweden, Egypt, Israel, Venezuela, Libya, Bangladesh, Algeria, Puerto Rico, Singapore, Switzerland, Ecuador, Spain, Hungary, Turkey, Austria, Gabon, Jordan, Costa Rica, Nigeria, Lebanon, Nepal, Taiwan, Brazil, Bolivia, Chile, Finland, Kenya, Netherlands, Hong Kong, Bulgaria, Russia, Iraq, Yemen

Abu Dhabi, Vung Tau, Kuala Lumpur, Toronto, Ho Chi Minh City, Kolkata, Houston, Chandigarh, Bogota, Rajkot, Edmonton, Nashik, Muscat, Kuwait City, Dallas, Vadodara, Indore, Geoje-si, Visakhapatnam, Noida, New York, Jaipur, Seoul, Bangkok, Singapore, Jamshedpur, Surat, Navi Mumbai, Faridabad, Haryana, Thiruvananthapuram, Coimbatore, Hyderabad, Calgary, Chiyoda, Chennai, Gurgaon, Pune, Sharjah, Atyrau, Ahvaz, Ludhiana, Ankara, Los Angeles, Howrah, Aberdeen, Mumbai, Brisbane, Sydney, Mexico City, Ernakulam, Tehran, Lahore, Santiago, Bengaluru, Madrid, Jeddah, Manama, New Delhi, Caracas, Melbourne, Moscow, Secunderabad, Pimpri-Chinchwad, Granada, Al Khobar, Al Jubail, Colombo, Karachi, Gimhae-si, Doha, Baroda, Algiers, Nagpur, Jakarta, Istanbul, Rio de Janeiro, Port-of-Spain, Perth, Ranchi, Lagos, Kanpur, Dubai, Bhopal, London, Hong Kong, Thane, Busan, Milan, Hanoi, Ahmedabad, Courbevoie, Petaling Jaya, La Victoria, Riyadh, Montreal, Ulsan, Cairo, Dammam