Inconel 600/601/625/825 Sheets Plates Coils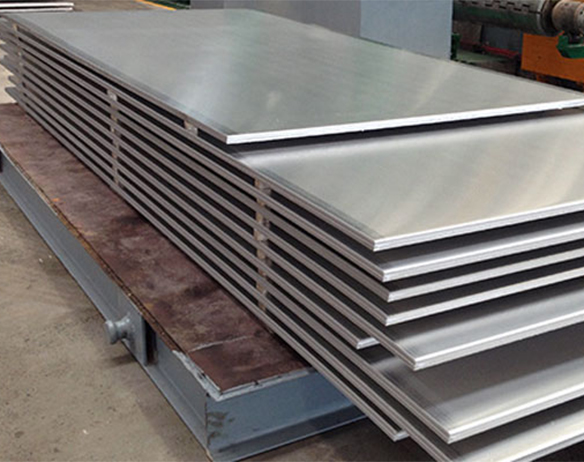 Inconel 600 Sheets
Inconel 601 Plates
Inconel 625 Coils
Incoloy 825 Circles
Inconel 600 Shim Sheets, Inconel 601 Chequered Plates, Inconel 625 Perforated Coils, Incoloy 825 ASTM B443 Plain Sheets Suppliers In India.
Steelage Alloys LLP is involved in manufacturing, supplying and exporting a wide gamut of Inconel 600 Sheets (UNS N06600), Inconel 601 Sheets(UNS N06601), Inconel 625 Sheets(UNS N06625)and Incoloy 825 Sheets(UNS N08825) in various sizes, dimensions and standards at market leading prices. Alloy 600 Sheets Plates is highly versatile and can be used in everything from cryogenics to applications that present elevated temperatures up to 2000 Deg F (1093 Deg C).Alloy 601 Sheets Plates is perfect for applications that demand resistance to heat and corrosion. Alloy 625 Sheets Plates has excellent strength due to addition of molybdenum and niobium. Combination of molybdenum, copper, and titanium gives Alloy 825 Sheets Plates an enhanced corrosion resistance in the harshest environments. These Inconel 600 Plates (WNR 2.4816), Inconel 601 Plates (WNR 2.4851), Inconel 625 Plates (WNR 2.4856) and Incoloy 825 Plates (WNR 2.4858) are also offered to our patrons at customized sizes, dimensions and standards.
ASTM B 168 Inconel Sheets, Inconel Plates, Inconel 600, 601, 625, 825 Coils Manufacturer, Exporter & Suppliers.
| | | |
| --- | --- | --- |
| Specifications | : | ASTM / ASME SB 168, ASTM / ASME SB 424 , ASTM / ASME SB 443 |
| Dimensions | : | ASTM, ASME and API |
| Range | : | 0.5 MM TO 200 MM THICK IN 1000 MM TO 2500 MM WIDTH & 2500 MM TO 12500 MM LENGTH |
| Form | : | Coils, Foils, Rolls, Plain Sheet, Shim Sheet, Perforated Sheet, Chequered Plate, Strip, Flats, Blank (Circle), Ring |
| Length | : | Single Random, Double Random & Cut Length |
| Finish | : | Hot rolled plate (HR), Cold rolled sheet (CR), 2B, 2D, BA NO(8), SATIN (Met with Plastic Coated) |
| Hardness | : | Soft, Hard, Half Hard, Quarter Hard, Spring Hard etc. |
| | | | | | | | | |
| --- | --- | --- | --- | --- | --- | --- | --- | --- |
| STANDARD | WERKSTOFF NR. | UNS | GOST | AFNOR | JIS | BS | EN | OR |
| Inconel 600 | 2.4816 | N06600 | МНЖМц 28-2,5-1,5 | NC15FE11M | NCF 600 | NA 13 | NiCr15Fe | ЭИ868 |
| Inconel 601 | 2.4851 | N06601 | XH60BT | NC23FeA | NCF 601 | NA 49 | NiCr23Fe | ЭИ868 |
| Inconel 625 | 2.4856 | N06625 | ХН75МБТЮ | NC22DNB4M | NCF 625 | NA 21 | NiCr22Mo9Nb | ЭИ602 |
| Incoloy 825 | 2.4858 | N08825 | ЭП703 | NFE30C20DUM | NCF 825 | NA 16 | NiCr21Mo | XH38BT |
| | | | | | | | | | | |
| --- | --- | --- | --- | --- | --- | --- | --- | --- | --- | --- |
| Grade | Ni | Fe | C | Mn | Si | Cu | Cr | S | Al | Mb |
| Inconel 600 | 72.0 min | 6.0 - 10.0 | 0.15 max | 1.00 max | 0.50 max | 0.50 max | 14.0 - 17.0 | 0.015 max | - | - |
| Inconel 601 | 61.5 min | 14 | 0.05 max | 1.0 max | 0.50 max | 1.0 max | 21.0 - 25.0 | 0.015 max | 1.0 – 1.7 | - |
| Inconel 625 | 58.0 min | 5.0 max | 0.10 max | 0.50 max | 0.50 max | - | 20.0 - 23.0 | 0.015 max | 0.40 max | - |
| Inconel 825 | 38.0-46.0 | 22.0 min | 0.05 max | 1.0 max | 0.5 max | 1.5-3.0 | 19.5-23.5 | 0.03 max | 0.2 max | 2.5-3.5 |
| | | | | | |
| --- | --- | --- | --- | --- | --- |
| Element | Density | Melting Point | Tensile Strength | Yield Strength (0.2%Offset) | Elongation |
| Inconel 600 | 8.4 g/cm3 | 1370-1425 ℃ | 550 min. | 240 min. | 30 % |
| Inconel 601 | 8.1g/cm3 | 1320-1370℃ | 650 min. | 300 min. | 30 % |
| Inconel 625 | 8.4 g/cm3 | 1290-1350℃ | 760 min. | 3345 min. | 30 % |
| Inconel 825 | 8.1 g/cm3 | 1370-1400 | 550 | 200 | 30 % |
Other Types Of Inconel Alloy Sheets Plates Coils
| | |
| --- | --- |
| Inconel Alloy Sheets Plates Coils | Incoloy Alloy Sheets Plates Coils |
| Inconel Hot rolled plate Supplier | UNS N08825 Cold rolled sheet |
| Inconel 600 Shim Sheets | Inconel B168 Rings Stockholder |
| ASTM B168 Inconel 601 Chequered Plate | Inconel 625 Perforated Sheet |
| Inconel 625 Plain Sheets Dealer | Inconel 601 Blank Manufacturer |
| ASTM B 424 Incoloy 825 Flats | DIN 2.4816 Foils Distributor |
| DIN 2.4851 Coils Exporter | UNS N06601 Perforated Coils |
| UNS N06600 Diamond Plates | Inconel Alloy Sheets Plates Coils |
| ASTM B443 Inconel 825 Strips | Incoloy Alloy Sheets Plates Coils |
| Inconel 601 Circles Stockiest | Inconel 600, 601, 625, 825 Profile |
Our Main Export Market / Our Main Supply Market
Ireland, Indonesia, Norway, Azerbaijan, Spain, Iraq, Costa Rica, Brazil, Turkey, Greece, Saudi Arabia, Serbia, Singapore, Iran, Mexico, Namibia, Iran, Ecuador, Kazakhstan, Trinidad & Tobago,Tunisia, Bolivia, Austria, Ghana, Israel, Australia, Lebanon, Germany, Gabon, Bahrain, Libya, Vietnam, Nepal, India, Russia, France, Slovakia, Nigeria, Hong Kong, South Korea, Jordan, Puerto Rico, Argentina, Thailand, Estonia, Philippines, Malaysia, Poland, Denmark, Colombia, Peru, Croatia, Venezuela, Algeria, Morocco, Taiwan, United Kingdom, Czech Republic, Netherlands, Chile, Hungary, Lithuania, United Arab Emirates, Kenya, Belgium, Chile, Gambia, New Zealand, Tibet, Sweden, Yemen, Bangladesh, Macau, Ukraine, Bulgaria, Japan, China, Sri Lanka, Nigeria, United States, South Africa, Bhutan, Switzerland, Poland, Italy, Zimbabwe, Pakistan, Egypt, Belarus, Kuwait, Romania, Angola, Oman, Finland, Portugal, Mongolia, Qatar, Canada, Afghanistan, Mexico

Faridabad, Nagpur, La Victoria, Tehran, Gurgaon, Jaipur, Perth, Vadodara, Noida, Bengaluru, Cairo, Manama, Baroda, Haryana, Dallas, Ho Chi Minh City, Pimpri-Chinchwad, Edmonton, Gimhae-si, Ludhiana, London, Mexico City, Pune, Chandigarh, Toronto, Kuala Lumpur, Visakhapatnam, Thane, Santiago, Hanoi, Hyderabad, Mumbai, Muscat, Busan, Seoul, Port-of-Spain, Ernakulam, Chennai, Atyrau, Petaling Jaya, Bogota, New York, Dammam, Singapore, Riyadh, Lahore, Kuwait City, Bangkok, Ankara, Algiers, Ahmedabad, Doha, Karachi, Istanbul, Chiyoda, Ranchi, Thiruvananthapuram, Jamshedpur, Los Angeles, Kolkata, Granada, Ulsan, Al Khobar, Jakarta, Dubai, Bhopal, Coimbatore, Howrah, Secunderabad, New Delhi, Rajkot, Geoje-si, Moscow, Madrid, Melbourne, Calgary, Vung Tau, Navi Mumbai, Houston, Nashik, Ahvaz, Jeddah, Aberdeen, Abu Dhabi, Caracas, Surat, Rio de Janeiro, Courbevoie, Sydney, Milan, Al Jubail, Colombo, Indore, Lagos, Montreal, Brisbane, Sharjah, Kanpur, Hong Kong